THE INTERCHANGE
ITS members can run free ads in the Phone Booth "Bill of Lading". The Society publishes these ads in good faith that they are true and as represented.
Wanted: "O" Scale Models -
Car Works Class "B", "C", or "D" models.
Cameron Models: IT Line Cars Cab on flat work car, Class "B", "C", Freight Trailer
Ed Skuchas eskuchas@me.com 610-517-4522
For Sale: Gordon Lloyd Jr. has combined his dad's collection of color slides and black & white photos with Edward Miller, Charles Able and others notable IT photographers into one slide show with over 500 images.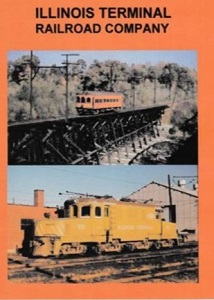 Send $23.95 + $4.00 shipping and handling to:
Note updated address:

Gordon Lloyd Jr.
P.O. Box 23761
Lexington, KY 40523

FOR SALE: From a dry closet in a smoke free home. GHB Model #102 ILLMO LIMITED powered Parlor/Observation. Custom painted and lettered by well-known Pennsylvania custom painter, J. Norman Hauser. A Marvelous custom paint job. I would grade the painting/decaling a 10+. Traction orange body with brown roof. Black side frames and underbody details, ladders and handrails. Tuscan (maroon) doors and window frames. Clear window glazing with stained glass glazing in arched windows. Observation platform has brass railing with red and white striped roof awning. Marker lights with red and yellow jewels. Capitol Limited drumhead. Car #514 lettered as LINCOLN. Window guards and 2 couplers included by not installed. The car was purchased in 1984 and was test run only at the time. Test run again prior to placing this ad and the car ran fine in both directions. Comes with original box and foam. Priced at $395 plus postage. Satisfaction guaranteed. If model is not as described, return insured with tracking for refund. Continental USA only. A truly magnificent custom painted HO model.
Contact Carl Klaus, 6209 N. McClellan Ave. Chicago, IL 60646-4015, (773) 631-7954 AZO100@yahoo.com

WANTED: HO model Illinois Terminal freight locomotive and passenger cars for a good, low price, especially IT rebuilt passenger cars with box windows.
Dave Liebehart (213)-422-4599 or (213) 381-0791.
3918 West Beverly Blvd., Apt. 407, Los Angeles, CA 90004 or email hart7319@aol.com

FOR SALE : The George Fehl maps comprised of drawings of the IT system as a set of five books.
ONLY TWO Volumes remain to be sold!

Book Two: Decatur-Bloomington, Bloomington-Peoria and Peoria-Springfield
Book Three: St. Louis-Springfield, St. Louis and Springfield trackage
Each book has been reduced to $30 postpaid.

Book Five: The St. Louis & Suburban (St. Louis Streetcar System)
This book has been reduced to $20 postpaid.

Spiral bound reprint of IT Directory of Industries from 1947 for $12 postpaid.

When ordering please include phone number and, if possible, e-mail address.

To order, send check or money order payable to:
David J. Neubauer
1569 Ville Angela Lane
Hazelwood, MO 63042-1630
Phone at (314) 291-3928 or e-mail at it1569djn@charter.net

Include your name, postal address, phone number and email address.

FOR SALE: ITS HO Brass
Ken Kidder HO Brass Models – Single Truck Birney – Illinois Power & Light Champaign/Urbana – Car #119 – Circa 1935 – Professionally Painted With Custom IP&L Decals & Base. Re-motored with Hollywood Foundry Bull Ant Motor – $275.00 & $15.00 Postage. To view the models, send your e-mails to: tony@brycoinc.com and I will respond with pictures of the Birney's. If interested, please do not send payment until you have contacted me – VISA, Checks, Money Order Accepted.
Tony Britsky, Troy, Michigan, tony@brycoinc.com 248-879-8779 (work)

FOR SALE:
#772.2-72 ITC Class B Freight Motor HO Brass Body Kit, double etched brass body less roof $159.95
#772-72-10 HO Roof mold resin $16.95.
#772.2-72-1 HO Bachmann truck mount bracket $9.95.
#772.2-48-72 "O" Body kit double etched brass STBA.
#20 HO-ITSBT-CD Illinois Traction Box Trailer – early lettering.
#20 HO-ITC-CD Illinois Traction Coach.
#20 HO63 Illinois Terminal trailer.
Model RR Warehouse@yahoo.com POB 411 Roanoke, IN 46783



FOR SALE: CD: Songs of the Illinois Terminal and Key System and also CD of songs "Trains of the Past and Present: Songs of the American Rail". Written by and sung by: David Liebe Hart and Adam Papagan. Each CD is $14.
David Liebehart (213) 422-4599 or (213) 381-0791.
3918 West Beverly Blvd, Apt 407, Los Angeles, CA 90004 or email davidliebehart@sbcglobal.net

FOR SALE:

ITRR boxcar door seals. Unused but showing surface wear. Great piece of vintage Railroadiana for your collection.
Prices include postage, 3 for $5.00 or 10 for $10.00. Cash/check/money order/Paypal.
David Huelsing 2341 Wincanton Rd St. Louis, MO 63129 or email: dhuelsing@earthlink.net

FOR SALE: Switch Key; Top: Marked/Stamped "ITS" Back: "Adlake " (initial capital S)
I believe circa 1930-40's. Good Condition. Price $ 125.00 + postage & ins.
Contact Jim Lueders 713-256-8595 or email: jlueders@neosoft.com - photo can be emailed upon request.

WANTED: HO scale or O scale model of the Class C locomotive in at least "decent" condition, painted or unpainted.
Tom Mallien, 384 Royal Valley Drive, Creve Coeur, MO 63141
or at TOMallien@FasterMac.net

WANTED: Photographs of Birney streetcar scenes operating in city systems owned by the ITS; Galesburg, Bloomington-Normal, Springfield, Decatur, Champaign, Danville, Cairo and Jacksonville. Stephen M. Scalzo at smscalzo@yahoo.com

WANTED: Two HO gauge IT GP38-2, series 2001-2004 locomotive.
Contact Bob Metz at Satguy2235@aol.com

FOR SALE: One IT "N" Gauge RS-1 Alco, #752-Oval paint scheme.
Brand new Atlas Classic –still in the box-
Contact Bob Metz at Satguy2235@aol.com

FOR SALE: Lantern made by Dressel of Arlington, NJ. with lid factory-marked I.T.R.R. Excellent used condition, slightly dirty, easily cleaned if desired, but all straight, no dents. Good working pot and burner with wick, you supply the kerosene. 3 1/4" tall clear globe with no chips or cracks.
$120 + $5/shipping to 48 states, higher shipping elsewhere.
Contact Jim at 847-952-1536 days or evenings. Other lanterns also available.

WANTED: Atlas HO Model of the IT RS-1 #756 in the green yellow oval paint scheme. John Howard, 29 Greenridge Dr. Carlinville, IL 62626

Book Released: "A Spectrum of Electric Railways and Transit"
A new, limited-edition book, A Spectrum of Electric Railway and Transit, is now available at a discount price to members of the Illinois Traction Society. This book features photographs by the author that were taken over a time span of fifty-seven years. The Illinois Terminal is represented with sixteen pages and forty-two, never before published photos. Coverage includes Iowa Terminal, Chicago lines, Portland MAX and Streetcar and twenty-seven other electric railways, streetcars or light rail operations and museums. This is a 10" X 8" soft-cover book that has 116 pages with 232 photographs. The discounted price for this book to ITS members is $34.95 (the regular retail price is $43.95). Shipping and handling is an additional $3.00 for a book (add $1.00 for each additional book). Illinois residents need to add 7.5% sales tax ($2.63)

"Illinois Terminal: An Album of Steam, Electric and Diesel Locomotives" is a 10" X 8" soft-cover book that has 76 pages with rosters, 110 black & white, and 45 color photographs. The regular price for this publication is $34.95, but the discounted price for ITS members is $25.95 per book. Shipping and handling is an additional $3.00 for one book and $1.00 for each additional book. Illinois residents need to add $1.95 sales tax for each book. Mail order requests with a check or money order (no credit cards accepted) to:
Ronald Schmitt
1308 Eliot Drive
Urbana, IL 61801

FOR SALE: Produced by ITS member Norb Shacklette:
"My Brother, the IC Railroad and Southern Illinois 1936-1942"
It is an excellent pictorial book of scenes in the Carbondale/Duquoin area on the ICRR
It consists of 112 pages and 160 Black & White Photos. Price is $25.00 postpaid.
The book can be ordered through the publisher:
Railway Mediation Services
1835 Gray Drive
St. Louis, MO 63131
Toll free 1-888-821-3008 or direct at 1-314-821-3008

FOR SALE: The last few remaining copies of
"People's Traction Company Galesburg to Abingdon, 1901-1925",
the story one of the lesser known interurbans in Illinois and a property owned by the Illinois Traction System. The line started as an independent and after 1913 was part of the Illinois Traction and later, Illinois Power & Light Company. Many pictures, maps, rosters and timetable; 29 pages, soft cover $7.50 plus $2.50 postage.
To order see the Storeroom listing for the
Streetcar History of Kewanee and Galva, Illinois

WANTED: Photos (B&W or color) or slides (originals or copies) showing IT r-o-w, structures, and industries served, between Carlinville and Gillespie. Scenes of South Mine, Carlinville Brick & Tile Works, the stock pen at Loveless, and Little Dog Mine are of particular interest.
David Jobe, Sr. at jobed@swbell.net
9935 St. Martha Lane, Saint Ann, MO 63074


WANTED: After the end of the electric era on the IT, the Illini Railroad Club continued to use cars 233, 234, and 518 on fan trips, (example; P&E-Indianapolis). We are in search of data, photos, and artifacts for a future issue of The Flyer. To further this project, please contact Dale Jenkins, Editor-ITS, 264 Victoria, Decatur, IL 62522,
217-423-ITRR.

WANTED: One copy each of Tinplate Shop Book on IT 230's, 270's, 280's Cars, Class "C", Class "D", and IT track map books.
Ed Skuchas, (610) 631-9751 or eskuchas@comcast.net

WANTED: Photos (B&W or color) or slides (originals or copies) showing IT r-o-w, structures, and industries served, along the Springfield Belt Line and between Springfield and Auburn.
Dave Johnson at ITagent@peoplepc.com
16 Parkview Lane, Chatham, IL 62629-1021; (217) 483-2214

WANTED: To borrow photos of Illinois Terminal/Illinois Power & Light City Buses for use in upcoming article in The FLYER.
Mark Godwin, ITS, 218 North Monroe St., Lebanon, IL 62254

WANTED: Photos and Information for Decatur Streetcar Book
John Sanner and Dale Jenkins of Decatur, IL are researching the history of the Decatur, Illinois Streetcar System and are requesting information related to roster data, timetables, operations, maps, photos (to purchase or scan), etc.
Please contact Dale Jenkins, 264 Victoria Ave., Decatur, IL 62522, 217-423-ITRR.
---
©Illinois Traction Society, This Page Last Updated February 21, 2017