Robert West, one of America's top railroad illustrators, has unveiled two of his newest paintings, reflecting operations on the Illinois Terminal Railroad. "On Time…All the Time" is a scene depicting a northbound 2-car streamliner, crossing over Route 66, at Springfield, Illinois. A 1953 Corvette emerges from beneath the overpass. An ironic twist is incorporated in the adjacent billboard sign.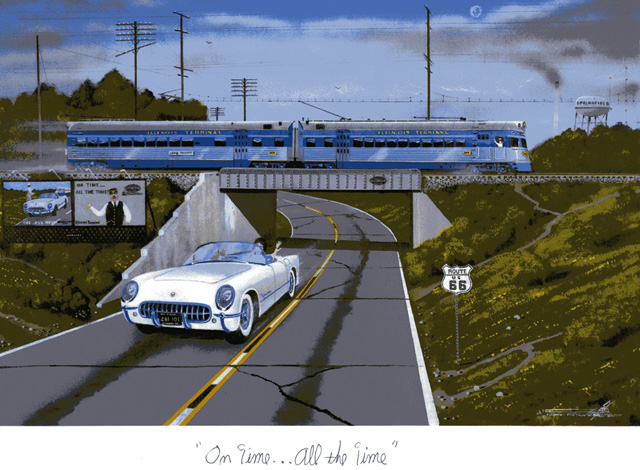 The painting "Encounter at Illiopolis", depicts the eastbound "City of Decatur" streamliner, passing over the Route U. S. 36 overpass, at Illiopolis, Illinois. A "Sunshine Dairy" Divco delivery truck driver exchanges a friendly wave, with motorman Ray Reed. On the adjacent Wabash mainline a passenger locomotive is pulling a freight train on a "break-in run" after repairs en-route back to Decatur.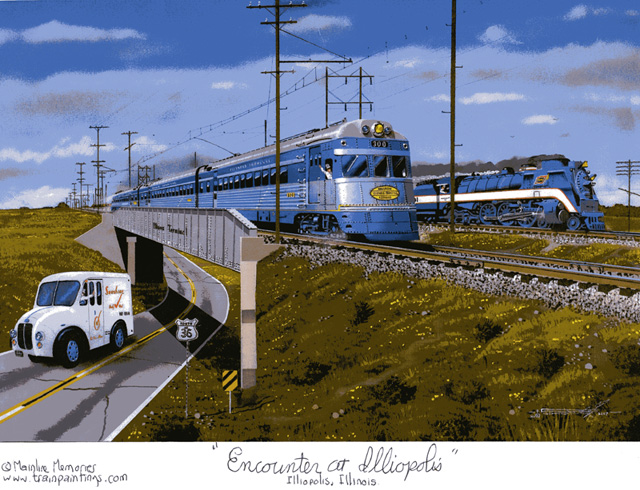 Lithograph prints are available from the artist, signed and numbered, with a Certificate of Authenticity and manuscript, detailing the history of the painting, for $54.00 each. (If ordered on the website it will cost $80.) Prints, signed only, with manuscript are available for $31.50 each. (If ordered on the website it will cost $40.). Please add $5.50 for shipping and handling per order. This price includes a 10% discount to ITS members with a percentage of sales being donated to the Society's General Fund. Painting commissions are available on request. To order or inquire, contact:

Robert West
Mainline Memories
POB 87241
College Park, GA 30337
(404) 357-6951 or mainlinememories@yahoo.com

Robert's technical rendering abilities cover the full range of North American Railroading, both from a historical and technically accurate perspective. His deep feelings towards his works, lend a certain buoyancy and vitality which characterizes his style and makes him increasingly popular among serious railroad art collectors worldwide! He has been drawing and painting trains since the age of two, but not until 1973 did he decide to make professional railroad illustrating a profession. His artistry has won several awards in shows of national and regional scope and Robert has also been featured on local television, newspapers, and featured in the magazine of a major railroad company.